Presidential hopeful Robert F. Kennedy Jr. recently shared a concerning incident on his social media. At the same time, he expressed gratitude towards the Gavin de Becker and Associates (GDBA) security team for their swift action in detaining an armed individual who tried to approach him during his Hispanic Heritage speech at the Wilshire Ebell Theatre in Los Angeles.
The man, equipped with loaded firearms and spare ammunition, falsely identified himself as a part of Kennedy's security detail. He also had a U.S. Marshal badge and a federal ID. The GDBA team acted promptly, isolating the man until the LAPD arrived to arrest him. Kennedy mentioned his hope for Secret Service protection. He is the first candidate denied such a request by the White House.
The Epoch Times reported that the LAPD was alerted about a man outside the event venue, claiming to be a U.S. Marshal, equipped with a badge, firearm, and shoulder holster. Breitbart added that this individual claimed to be an employee of the event organizers. However, campaign security did not recognize him, leading to his detention until the police arrived. He was found with a handgun and ammunition and might face charges for impersonating an officer and possibly illegal possession of firearms.
This incident is particularly alarming, given the tragic history of the Kennedy family. Both RFK Jr.'s father and uncle were assassinated, marking two of the most infamous events in U.S. history. In a previous statement, RFK Jr. noted that since his father's assassination in 1968, presidential candidates have been granted Secret Service protection, but he was denied. The Biden Administration denied his request after 88 days of waiting.
According to the law, major presidential and vice presidential candidates and their spouses are legally entitled to Secret Service protection starting 120 days before a general election, which would mean that the agency is only required to protect RFK from July 5, 2024. However, candidates can receive protection earlier if they face serious threats. Given the recent incident and RFK Jr.'s submission of a detailed security report, the question arises: does he face a serious threat?
Historically, when Ted Kennedy, RFK Jr.'s uncle, ran for president in 1980, President Jimmy Carter ensured he received Secret Service protection, even though he was only legally entitled to it closer to the election date. Given this precedent, there are calls for the current administration to grant RFK Jr. the same courtesy. Despite this recent event, there are doubts about whether the Biden administration will comply with this request.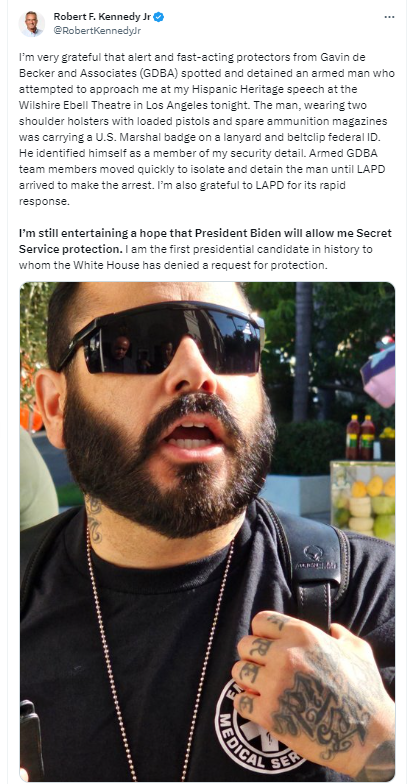 Screenshot: X: Robert Kennedy, Jr